Each uncoated tablet contains:
Composition:
Rupatadine Fumarate equivalent to Rupatadine...............10 mg
Indications:
Symptomatic treatment of seasonal and perennial allergic rhinitis.
Description:
Rupatadine is a new selective histamine H1 receptor and platelet-activating factor (PAF) antagonist. Its chemical designation is 8-chloro-11-[1-[(5-methyl-3-pyridinyl)methyl]piperidin-4-ylidene]-6,11-dihydro-5H-benzo[5,6]cyclohepta[1,2-b] pyridine fumarate.

CONTRAINDICATIONS
Rupatadine should not be administered in patients who show hypersensitivity to Rupatadine or any of the excipients.

WARNINGS AND PRECAUTIONS
Rupatadine should be used with caution in old patients.
Its use is not recommended in patients with renal or hepatic insufficiency and in children less than 12 years.
Administration of a dose of 10 mg daily of Rupatadine has not shown significant effects on the function of the central nervous system as seen in specific studies done for psychomotor function. Nevertheless, the patient should take precaution in driving or managing machines.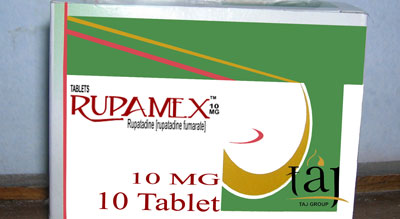 Dosage: *Adults and adolescents (above 12 years) : The recommended dosage is 10 mg (one tablet) once daily, with or without food.
*Elderly: Rupatadine should be used with caution in elderly. No information is available that indicates the requirement of any dose adjustment in this population.
*Children: Neither the safety nor the efficacy of Rupatadine has been established in patients less than 12 years of age.
Presentations: 10 tablets
MRP Retailer Stockiest
45.75 36.60 32.94
Product Downloads:-