Each Injection contains:
Composition:
Inj. Ondansetron 2ml Amp..............................................2mg /ml

Indications:
Emetron helps to relieve nausea and vomiting, especially when associated with the treatment of cancer (chemotherapy). Ondansetron may also be used to prevent or treat nausea and vomiting that occurs after surgery, and occasionally is used to treat severe vomiting during pregnancy.

Description:
Ondansetron is a competitive, highly selective antagonist of 5-hydroxytryptamine (serotonin) subtype 3 (5-HT 3) receptors. 5-HT 3 receptors are present peripherally on vagal nerve terminals centrally in the area postrema of the brain. It is not certain whether ondansetron's action is mediated peripherally, centrally, or both. Cytotoxic drugs and radiation appear to damage gastrointestinal mucosa, causing the release of serotonin from the enterochromaffin cells of the gastrointestinal tract. Stimulation of 5-HT 3 receptors causes transmission of sensory signals to the vomiting center via vagal afferent fibers to induce vomiting. By binding to 5-HT 3 receptors, ondansetron blocks vomiting mediated by serotonin release.
Ondansetron has no dopamine-receptor antagonist activity.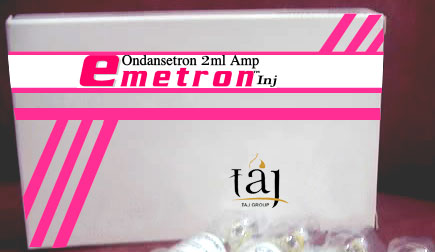 Dosage :
As per the physician's advice.
Presentations : 2 ml
MRP Retailer Stockiest
28.25 22.60 20.34