Composition

Dopin Tablets
Each tablet contains Dothiepin hydrochloride 5mg



Indications

Depression. Anxiety associated with depression.

Dosage and Administration

Adults: Initially 75mg daily in divided doses or as a single dose at night. Increasing to 150 mg with caution & under close supervision. Maintanence: 150 mg as a single dose at night. Children: Not recommended.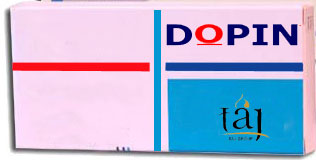 Interactions
Anticholinergics: Enhanced effect of anticholinergics may occur. Barbiturates: Serum level of imipramine decreased; additive respiratory depressant effect. Clonidine: Hypertensive crisis. Dicoumarol: Increase in anticoagulation effects. Disulfiram: Acute organic brain syndrome. Fluoxetine & Haloperidol: Potentiate action of imipramine. Levodopa: Its bioavailability is reduced, hypertensive episodes. MAOIs, Furazolidone: Seizures, sweating, coma, hyperexcitability, hyperthermia, tachycardia, mydriasis, confusion, DIC. (Disseminated Intravascular Coagulation) and death. Oral Contraceptives and Phenothiazines: Increase plasma levels of imipramine. Smoking: Increases metabolic bio-transformation. Alcohol: Sedative effect of alcohol potentiated.

Warnings and precautions:
Should be take by on the prescription of a registered medical practitioner only.

Presentation:
Dopin Blister pack of 30 tablets
Product Downloads:-