Alzocum Tablets

Composition
Alzocum-25 Tablets
Each tablet contains Atenolol BP 25 mg
Alzocum-50 Tablets
Each tablet contains Atenolol BP 50 mg
Alzocum-100 Tablets
Each tablet contains Atenolol BP 100 mg
Indications
Alzocum is indicated in the treatment of hypertension, angina pectoris and post-myocardial infarction.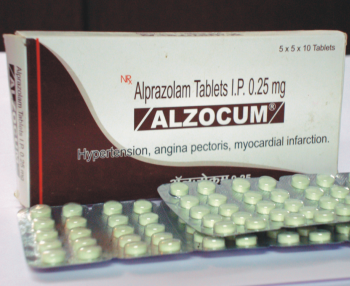 Dosage and Administration
HYPERTENSION
The initial dose is 50 mg daily either alone or added to diuretic therapy. If
an optimal response is not achieved, the dosage should be increased to
100 mg daily. Increasing the dosage beyond 100 mg a day is unlikely to
produce any further benefit.
ANGINA PECTORIS
As for hypertension. Some patients may require a dosage of 200 mg once
a day for optimal effect.
POST-MYOCARDIAL INFARCTION
100 mg daily in single or divided doses.
Contraindications
Sinus bradycardia, second or third degree AV block, cardiogenic shock,
overt cardiac failure and hypersensitivity to atenolol.
Presentation
Alzocum-25 Blister pack of 14 tablets
Alzocum-50 Blister pack of 14 tablets
Alzocum-100 Blister pack of 14 tablets

Wallpaper:
Product Downloads:-